5 min.
Seven years ago my son started taking cello lessons. That is when I met Cecilia Berioli. At first she was "the music teacher" but I quickly got to know her as a woman, a mother, a gentle human being, a friend and a warrior.
Named after the Patron Saint of musicians, this native Umbrian is on a lifelong mission. Her message is: "Music must be more a part of our daily lives!"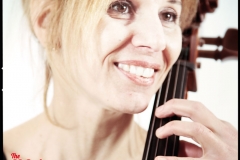 5 Photos
I see her as a mythological hero wielding her cello like a wonderful weapon, she is producing fascinating projects all dedicated to completing her mission.
I was her student for a while, and so was the waitress who is bringing us coffee at Caffé Magi, where we are meeting to discuss music and life. I ask her if it is difficult for a woman to succeed in the world of music. "Absolutely not!" She replies. "It is, however, difficult for either gender to deal with ignorance and incompetence, which are often combined with arrogance, and destroy any chances for creating a meaningful dialogue. Being a woman is only difficult when dealing with a biased person, because you must make twice the effort to convince them of your real capacity".
Cecilia is more than a musician. One of her passions is interior decorating and she has an impressive style rooted in Umbrian tradition. She is also a mother which I assumed must have made it difficult to pursue a soloist career when the children were small. "It wasn't a sacrifice though. I made the choice to be a mother, and I am very lucky that my two boys have been so independent from a young age. Sometimes I am concerned that perhaps they have too much independence and responsibility, but then I think about circus families. If their kids grow up fine, why not mine?"
Her new group, Umbria Ensembl is involved in so many unusual and interesting projects to integrate music into our daily lives. They are doing a concert tour in China this fall, but this won't be the first time she does battle in Asia. Cecilia conquered the hearts of the Japanese people a few years ago when she played in a group, first for and then with the Empress of Japan who aside from her royal duties is also a pianist.
"With my new group, Umbria Ensemble", she tells me, "I am finally able to express my own ideas and creativity. I have had the fortune of finding partners who share the same vision. There is my husband Luca Ranieri at the viola, the pianist Michele Rossetti, Luca Venturi and my old friend  Angelo Cicillini on the violins. I played duets with Angelo when I was nine years old. We grew up together  and travelled abroad in a quartet when I was only fifteen.  Then we went on different paths and recently we found each other again. As a group we share the same goal: we are all committed to projects that make music more a part of daily life in our society".
About three hundred years ago classical music was separated from the common people and it bacame an elitist category of music. Since then there has been an obstacle for people to enjoy classical music. Cecilia summarizes her group's goal like this: "Dostoevskij wrote, – Beauty will save the world –  and I agree.  I think that music, thanks to its beauty and its sense of order, can help people to change their thinking, their system of making choices, their way to interact with others and with the world".
Last summer, Umbria Ensemble recorded a DVD entitled: "Histories From the Last Days", inspired by the life and work of the master painter Luca Signorelli. Cecilia produced a show in which pictures from the famous Umbrian painter came to life with words, dance and obviously live classical music. These different mediums collaborated nicely together.
I have always admired Cecilia's relationship with her roots, as well as her fighting nature. She is an example against the Italian phenomenon of "Brain Drain". Instead of leaving her native region she resists. "Umbria Ensemble started in a challenging way", she tells me. "On the one hand we got enthusiastic feedback from the audiences admiring our originality and creativity. On the other hand  some of our colleagues and others involved in the music scene here were very critical. It has been very difficult.
New creative projects are always something that are perceived as a rupture. But we need time and patience to accept new things. To live and work in this environment is a challenge, but I love Umbria, a region in perfect balance between culture and nature. This part of Italy has lots of potential".
This Summer, Umbria Ensemble will be performing  a show conceived by Cecilia entitled "Fratres". "It is based on three imaginary dialogues", she explains. "I had the idea one day while walking in Castello with a foreign friend who was impressed by the Duomo and the ancient buildings surrounding it. He was very distracted in our conversation and surprised that I could walk normally in such a context. I realized that our past is constantly erupting in our daily life, not only because of the many monuments we have but also because of our inherited behaviors and our traditions. What if people from different times could meet?"
"The show will be a trilogy", Cecilia tells me. "In the first part Saint Francis will meet Fortebraccio from Montone, even though their lives are separated by two centuries. The warrior was a believer in violence as the only way to reach his dream of creating an Empire in Central Italy.
His life ended when he was wounded in the Aquila's battle on the 2nd of June 1424 and he refused to be treated. This fact gave me the idea of an imaginary lyrical dialogue between the dying leader and Saint Francis: they talk about peace as opposed to violence". The second and third sections will be a theater piece and a ballet both with music by Cecilia's group.
Cecilia is well known in Città di Castello and in the music schools of Perugia. "I had a student once who asked me where the cello factory is located!" Because of that she decided to put together a project focused on bringing students to learn about the origins of musical instruments. In Ponte Felcino there is a didactic forest which now has a section called "Art's Nature" about the art of building musical instruments. The new path among the trees shows the species from which wood is used for violins, cellos and so on: the typical Christmas tree is also a source of wood that is used to build the base of those instruments. "I am very proud of this project, because it is something that will remain in our region to show that a musical instrument is not a museum object, but comes from nature and is part of our daily life".
We hear the warcry from Cecilia's cello in many different contexts: from schools to concerts; from nature to art; from history to musical composition. We can hear her impact touching life as a whole. Her career is marching along a specific path: "If you want for music to enter your daily life you have to surround it and embrace it", she admits with a smile. "My strategy is that we mustn't  give up. We have to conquer daily life, if necessary, by wearing it down".